2017 was the first year that I didn't do any WP shows since 1999, or in other words, in the entire history of the WP. That feels strange. However, I did stay busy with music.
Working with producer Murray Lightburn for the third time, I recorded five new songs. They sound pretty different than anything I've done so far, so I'm curious to see what people will think. Murray and I did most of the music ourselves, Stacey sings on a bunch of tracks, and longtime WP cohorts Chilly Gonzales, Steve Raegele and my brother Nick Fraser all make appearances. These tunes will be released in some form in 2018, and the WP will get back on the road.
The other thing that kept me busy was the 30th anniversary tour of the Permanent Stains, the band I've been in since junior high school. We released an updated edition of our autobiography, Let's Get Greasy, and did five shows in Ontario and Quebec. The tour was probably one of my favourite experiences ever. In our heyday we were notorious for being theatrical and confrontational but not very good—but today, with half the band being full-time pro musicians, I knew we could make an impact musically as well as theatrically. Some may be surprised by this, due to my reputation for haphazard sloppiness, but I actually have very high standards both for the WP and the Stains: I want to blow people's minds. And if I may say so, I think we accomplished that this summer. But don't take it from me…
Some of the shows were mostly for old friends, which was fun, but when we played in North Bay and Peterborough, the audience was all young people rocking out, which was super energizing. We also got to play with a bunch of really cool bands and artists, including old friends like garbageface, Broken Puppy and Just Like the Movies, but also new (or new to us) artists like Ugly Cry, Eliza Kavtion, Gamma Scum, Like a Girl, Coastal Pigs,  Worn Robot and Lonely Parade. The tour was full of friendship, hysterical laughter and ridiculous stunts both onstage and off. To be able to spend that time with the band—my brother and a bunch of my closest friends—and to pull off our absurdist spectacle so successfully, was really like an adolescent fantasy come true, and I hope to work with the Stains again before too long.
While I was on the road with the Stains, I was contacted to host a panel discussion at Pop Montreal with recently reunited 90s band Royal Trux. I was familiar, if not intimate, with their music, but I was curious (and flattered) enough to say yes. Starting at that moment and continuing up until minutes before the panel, people from my close friends to the highest ranks of Pop authority warned me that the band were notoriously difficult. I figured I had to get my Nardwuar on and do scrupulous research in order to not be publicly humiliated.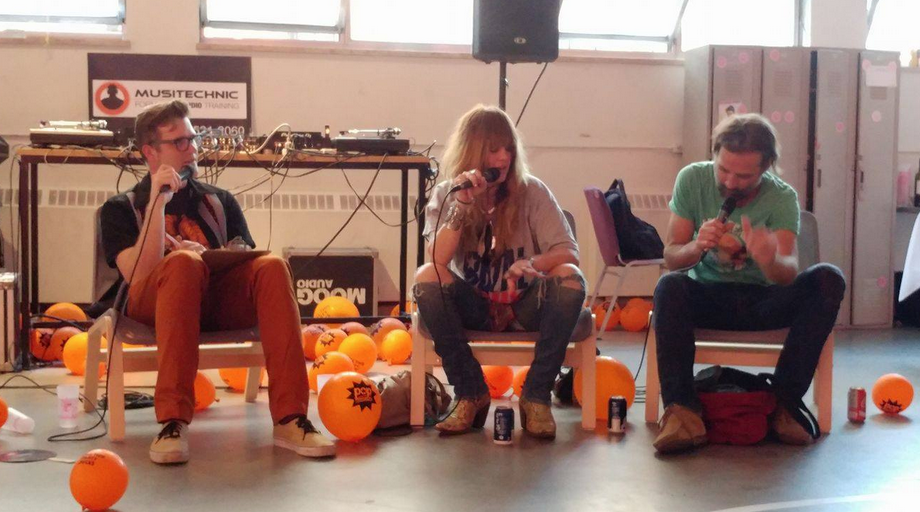 In the end, the research paid off and/or the band's difficulty was greatly exaggerated, but it was a pretty great experience—they were just funny, smart, very candid people. In addition to a nominal fee I got a festival pass out of it, which was great. I saw a number of shows, including nostalgic classic album run-throughs by pals The Dears and Besnard Lakes, a great set by Carodiario which also was apparently Maica's last under that moniker, and a rager by the Trux themselves. The best was a NYC rapper named Quay Dash. I was on my way home from another show when I ran into my friend Roxanne aka Donzelle, who urged me to join her, and I'm so glad I did. True hip-hop, raw and real, like I hadn't seen onstage in years.
Anyway, I'm excited to share my new music and to get performing again. Thanks for reading, and I hope to be seeing you soon!